~The use of age verification for implementing appropriate marketing strategies tailored to customer age groups has been expanding. ~

Liquid Inc. announces that the cumulative number of KYC checks conducted through "LIQUID eKYC", an online identity verification service, has now achieved 30 million cases.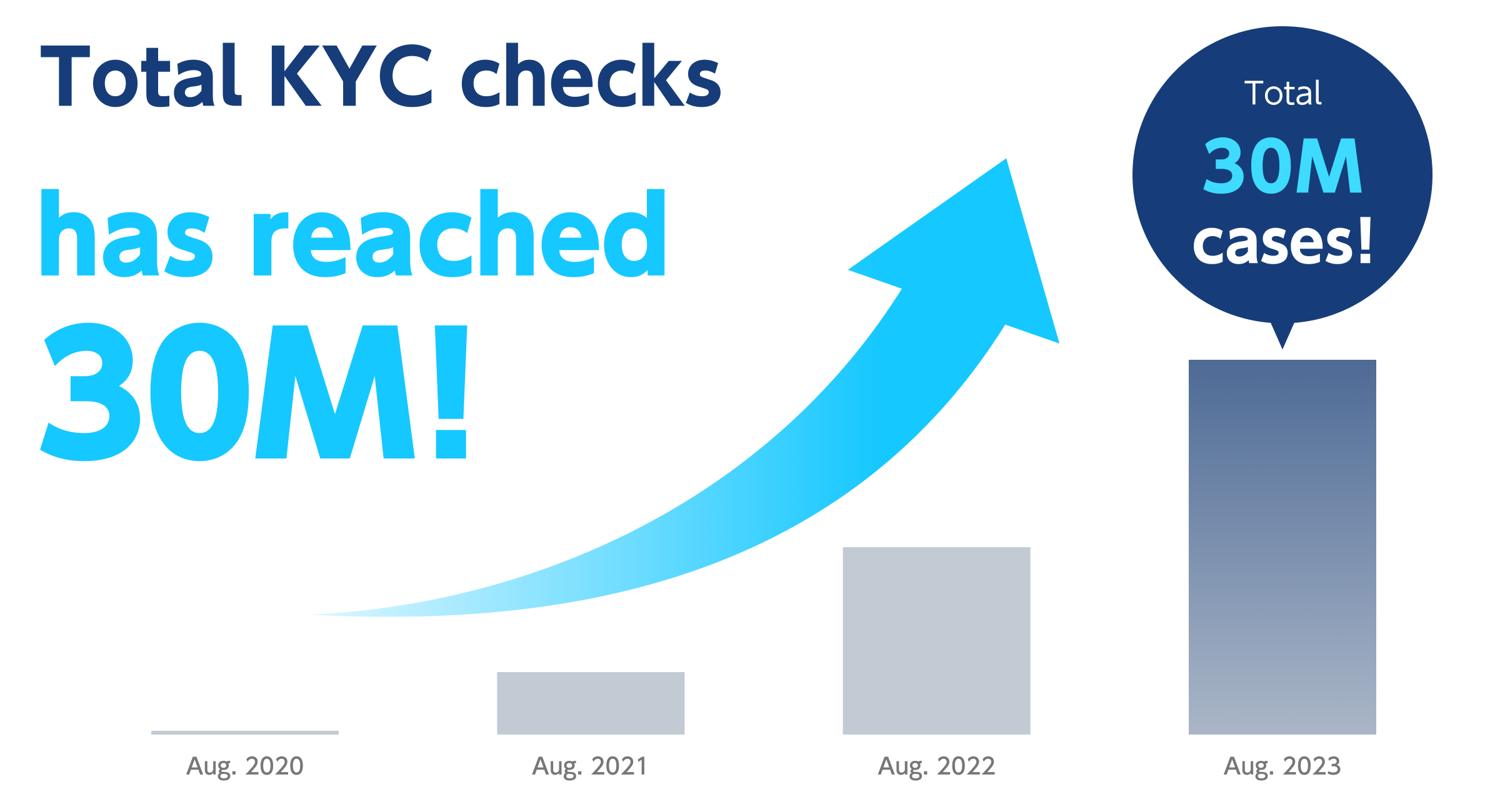 LIQUID eKYC is an online identity verification service that completes the process either by scanning an identification document or reading an IC chip, and matching the person's self-taken facial photograph, or by using public personal authentication methods. Its unique features include the application of biometric recognition and image processing technologies, resulting in a low drop-off rate during the process, a small proportion of unclear images, and a high level of accuracy in automatic facial recognition.

In addition to being implemented in diverse sectors such as finance, telecommunications carriers, second-hand shops, sharing economy-related services, dating apps, cryptocurrency trading services, and Web3-related services like blockchain game guild services, the milestone of 30 million cumulative identity verifications has been reached, reflecting an expansion in the use of the service. Regarding this expansion, "LIQUID eKYC" is being utilized not only for identity verification during account registration and account opening, but also for age verification intended for the implementation of appropriate marketing strategies, and for personal identification during change notifications such as address or telephone number changes at financial institutions.

・Case Study(eCommerce): Through precise age verification, we are able to implement appropriate marketing strategies tailored to the respective age groups of our customers.
While there's a risk of fraudulent age registration in cases of self-declaration, the use of "LIQUID eKYC" for accurate age verification refines the member registration age, contributing to the realization of marketing initiatives such as campaigns tailored to the respective age groups of our customers.
Some of the companies implementing our services
[FinTech] Paidy Inc. (PayPal Holdings, Inc.), pring Inc. (Google International LLC), Rakuten Wallet, Inc., RECRUIT MUFG BUSINESS Co., Ltd.
[Cryptocurrency exchange] Binance, BitTrade Inc., bitFlyer, Inc., Coincheck, Inc.
[E-Scooter Sharing] Luup Inc.,
[Matching Technology] Eureka, Inc.(Match Group) , Omiai, Inc.
[Web3] SAKURA UNITED PLATFORM Pte.Ltd.
[Bank] Mitsubishi UFJ Trust and Banking Corporation, JAPAN POST BANK Co., Ltd., SBI Sumishin Net Bank, Ltd., SBI Shinsei Bank, Limited, Seven Bank, Ltd.
[Credit Card Issuer] TOYOTA FINANCE CORPORATION, Credit Saison Co., Ltd., JCB Co., Ltd.
[Fashion eCommerce] ZOZO, Inc.
[Telecom] NTT DOCOMO, Inc., KDDI Corporation
We will continue to focus on developing features from the perspective of businesses and end-users. Our goal is to provide a service that is not only more secure and reliable, but also highly convenient.

<New features added to LIQUID eKYC>
・LIQUID eKYC has a new function to prevent applications with fraudulent identification documents
https://liquidinc.asia/global/news/07-24-2023/
・LIQUID eKYC has a new judgment function to prevent impersonation during facial recognition
https://liquidinc.asia/global/news/05-31-2023/
・Screening management function of the identity verification service called"LIQUID eKYC" enables screening from multiple overseas locations.
https://liquidinc.asia/global/news/02-07-2023/
"LIQUID eKYC" with the largest share of the eKYC market for four consecutive years※1
The service provides online completion of identity verification required for online contracts, account registration, and account opening. We offer a method that takes a picture of an identification document or reads an IC chip and matches it with selfies, as well as a method that utilizes public personal authentication. We can also support age verification for student discounts. Our proprietary AI, biometric, and OCR technologies have enabled us to maintain a low drop-off rate from the start to the end of the photo shooting process and the cumulative number of identity verification cases has exceeded 20 million.
URL: https://liquidinc.asia/global/

※1 ITR "ITR Market View: Identity Access Management / Personal Authentication Type Security Market 2023" eKYC Market: Sales Value Share by Vendor (FY2019-FY2022 Forecast)

About Liquid
Liquid aims to make a seamless world where all 7.7 billion people in the world can easily and safely use all services through automatic and ubiquitous authentication. We provide our own Digital ID, KYC and Authentication service, where users can prove their identity anytime, anywhere in the world with their smartphone or face.We are expanding our service globally and utilise the know-how accumulated under the Japanese strict law and rule. We adapt our operations and services flexibly and quickly to changes in the required legal and security framework.