The future KYC
Take the leap with
LIQUID eKYC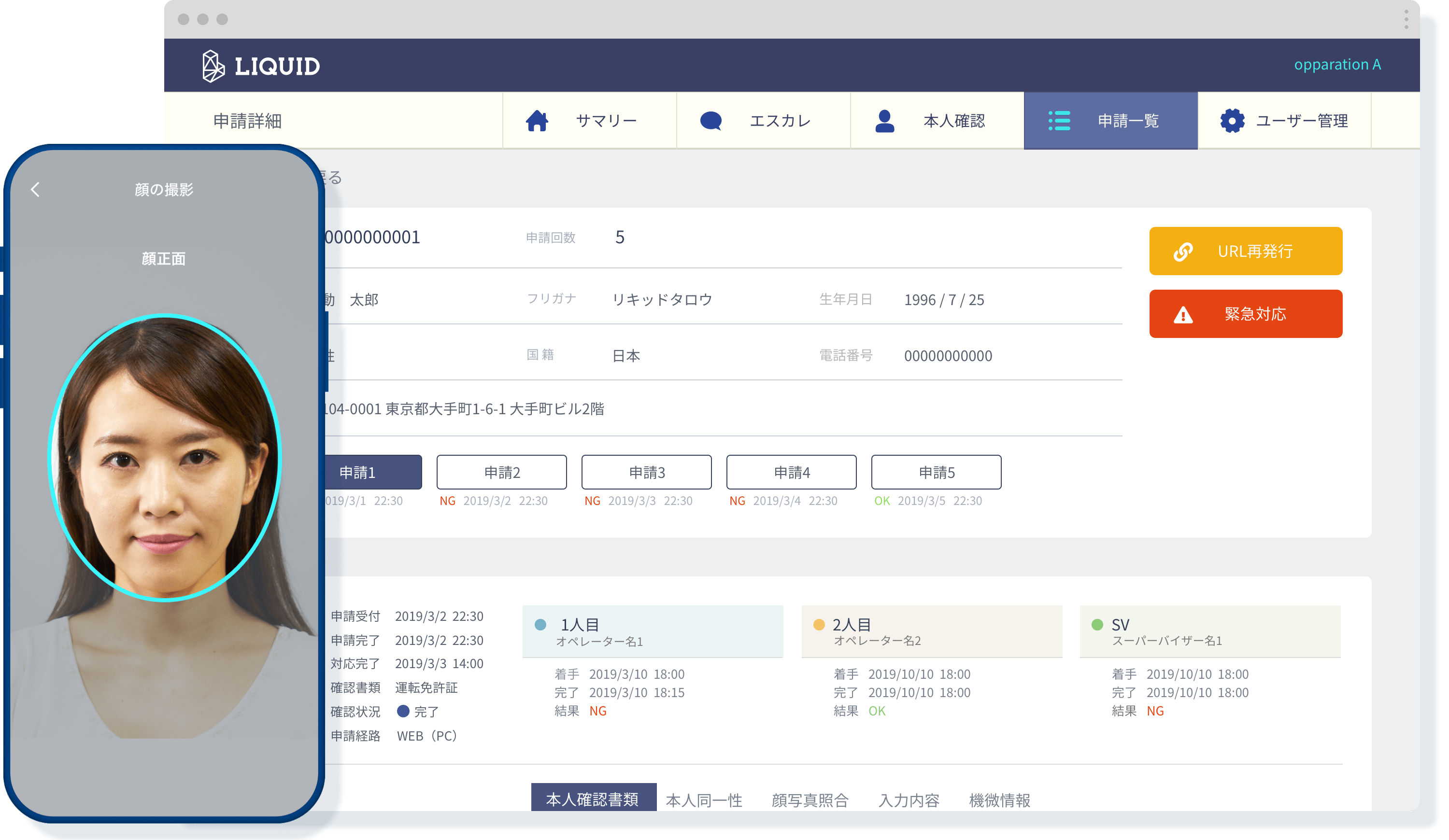 LIQUID eKYC is a tool that allows speedy, secure KYC verification through smartphones and webcams.
①Japan's top-class face authentication
②Unique AI-based image processing
③Patent pending verification technology (Japan)

All the above is equipped on cloud at reasonable pricing to liberate people from manual KYC operations.
The Largest Market Share in Japan
Every KYC verification process done online
From finance to sharing and lending, we enable KYC for every legal requirement.
No.1

share in
Japan's eKYC
※Source: ITR "ITR Maket View: Identity, Access Management / Personal Identification for Security Market 2021", eKYC Market: largest market share in revenue by vendor for FY 2019 and 2020
KYC completed in


3

 seconds
※When using automated function
What LIQUID eKYC Can Bring
Immediate results for general web services
Shortest results in 10 minutes for financial and telecom organizations
Solutions to challenges such as lowering exit rates, decreasing errors, preventing fraud, automating with the least effort
Improved UX: Exit rate under 3.0%
Can decrease exit rates to under 3.0%
Lowers cost by bringing efficiency and automation to KYC processes
The features can be customized to fit local legal requirements
Prevents fraud by patent pending verification technology and state-of-the-art face authentication
The service can be released in 3 weeks
Our UX has exit rate of under 3.0%
Available to many end users
Can be used on over 80% of iOS/Android devices
Prevents many types of attacks including those through photos, videos, and 3D masks
Comes with verification tool
Available with eKYC Manager, an intuitive verification interface
Outsourcing of verification
Allows up to 24/7 operation
Only under 1% of images will be unclear
The service uses the full potential of ASP and a common platform to constantly update and upgrade its features
Our fraud detection service "LIQUID Shield", the first of its kind in Japan, can identify misuse by centralizing data on physical appearance, name, date of birth, and device
Japanese patent pending verification technology (number 2020-173696), unique AI technology (image processing), state-of-the-art face authentication and OCR, etc.
Everything you need for KYC
We combined the latest identity verification technology with document and face scan functions.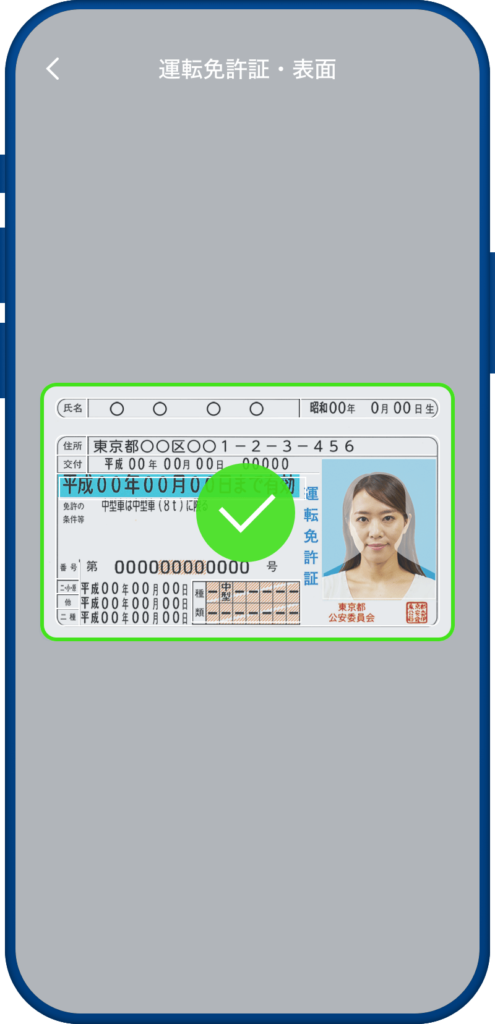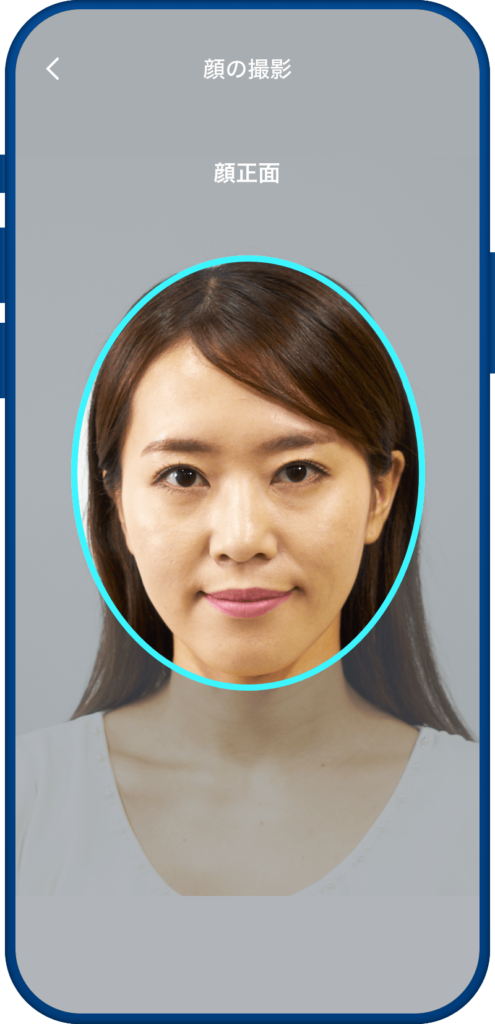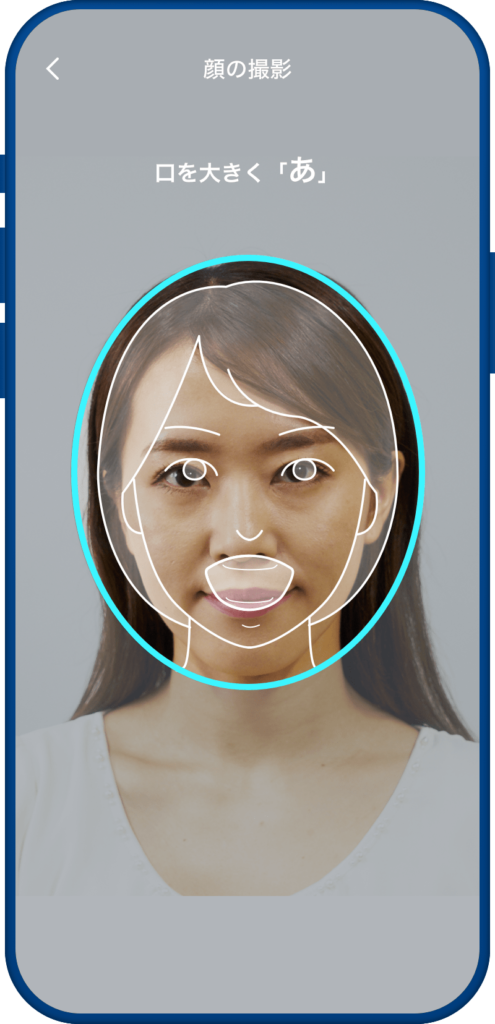 We provide organizations with a web application and SDK to access LIQUID eKYC through their mobile apps.
Top-notch image processing
Liquid excels in image processing technologies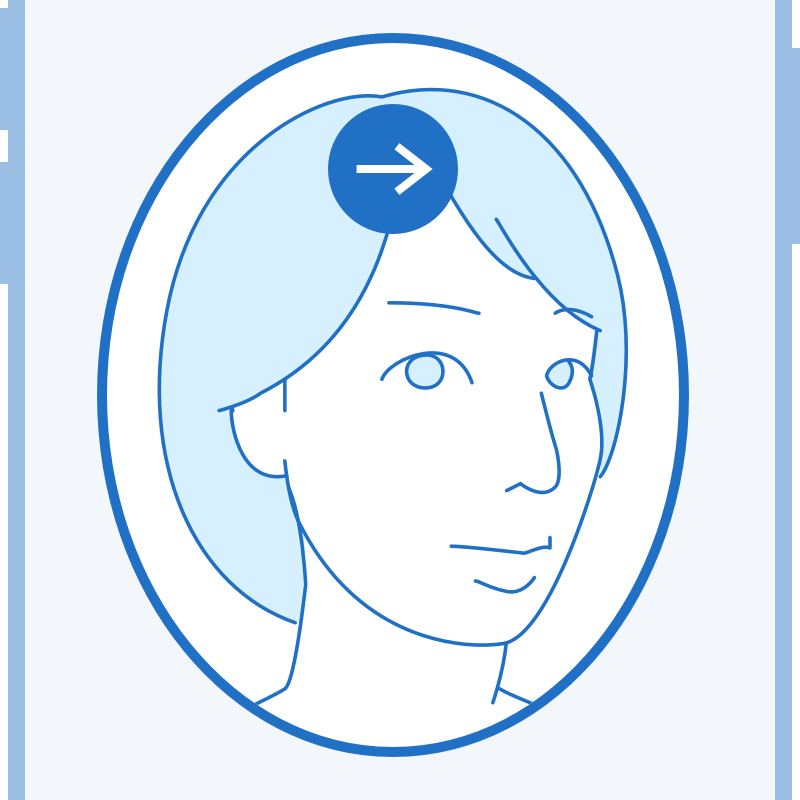 An AI verifies whether the face belongs to the same person based on randomly instructed movements.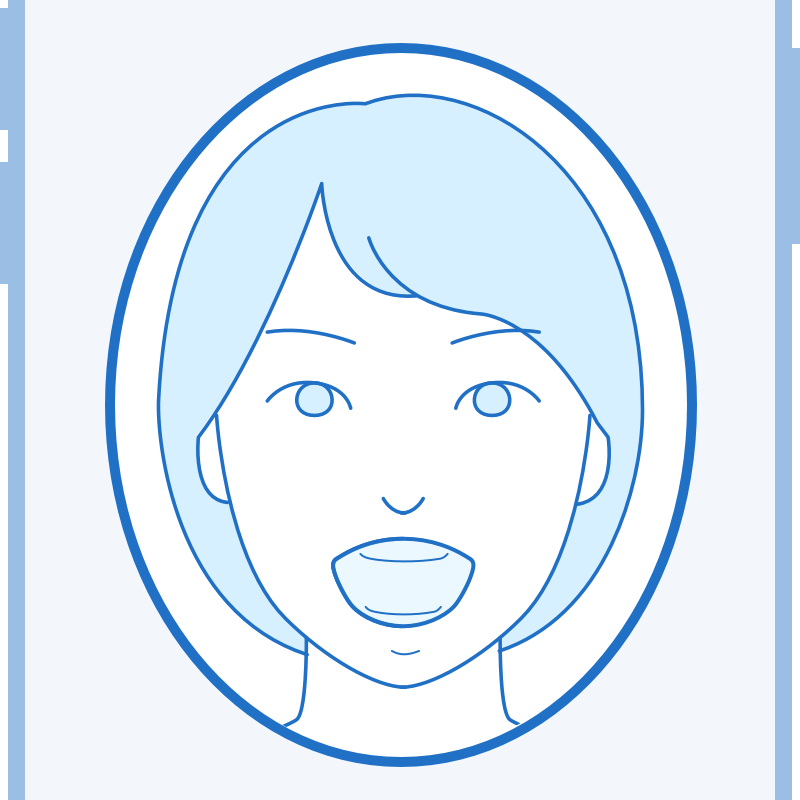 An AI verifies whether the face belongs to the same person based on changes in expression and how the face reflects light.
eKYC operations
in one package
An ASP tool to manage and examine applications sent through eKYC Applicant.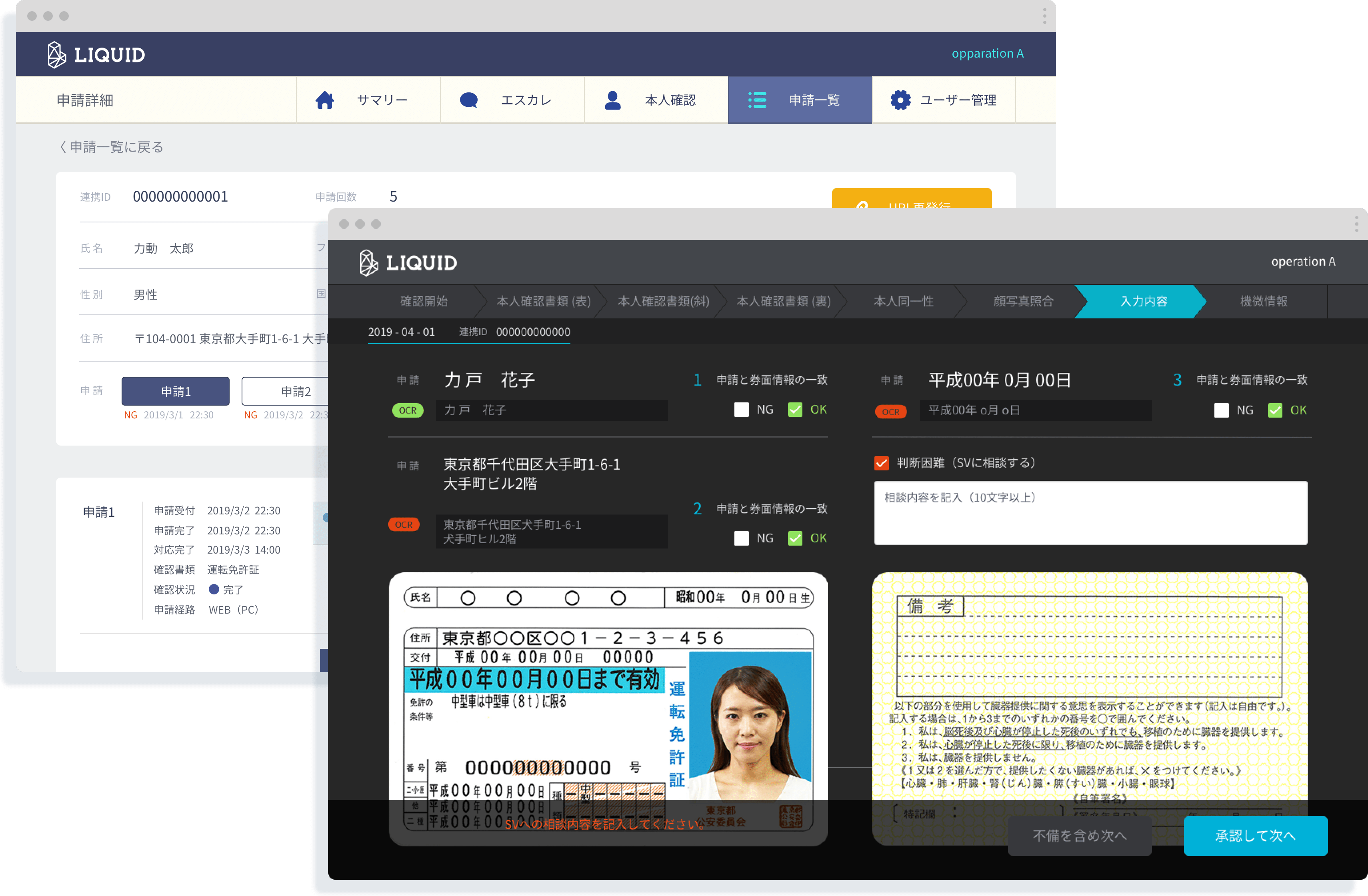 Examination can be outsourced
No need for recruiting or training. Can operate up to 24/7.
Japan's top-class engine and a continuously upgraded platform
Japan's top-class
face authentication and OCR
LIQUID eKYC's engine is powered by an AI that is trained to give the most accurate reading results
All our technology is concentrated on one platform to constantly update and upgrade its features
A rich collection of APIs support seamless integration with your system
Number of API: 25 (as of March 2021)
To make authentication ubiquitous and effortless for a fluid society.
The world today is overflowing with data.
These data have derived social benefits such as automation and personalization. On the other hand, however, they have increased social problems such as identity theft and invasion of privacy.

To make authentication ubiquitous and effortless for a fluid society.

This is our vision for a better world, where personal and public data are connected in an ideal way.

To be more specific, our eKYC and authentication services are:
1. safer than ever,
2. managed completely under consent of individuals,
3. effortless and intuitive,
4. accessible anytime, anywhere.
These features are the foundation of safer and more convenient social activities.



Just imagine.

You could visit any country with just your smartphone, or even without it. Your passport and vaccination records would be shared on interoperable platforms.
You wouldn't need to spend hours looking for clothes that fit your shape.
Remote surgery could be possible even on remote rural islands.
No minorities would be left behind.
It is our greatest pleasure to take on this tremendous challenge together with our partners and clients, and to make our vision come true in the near future!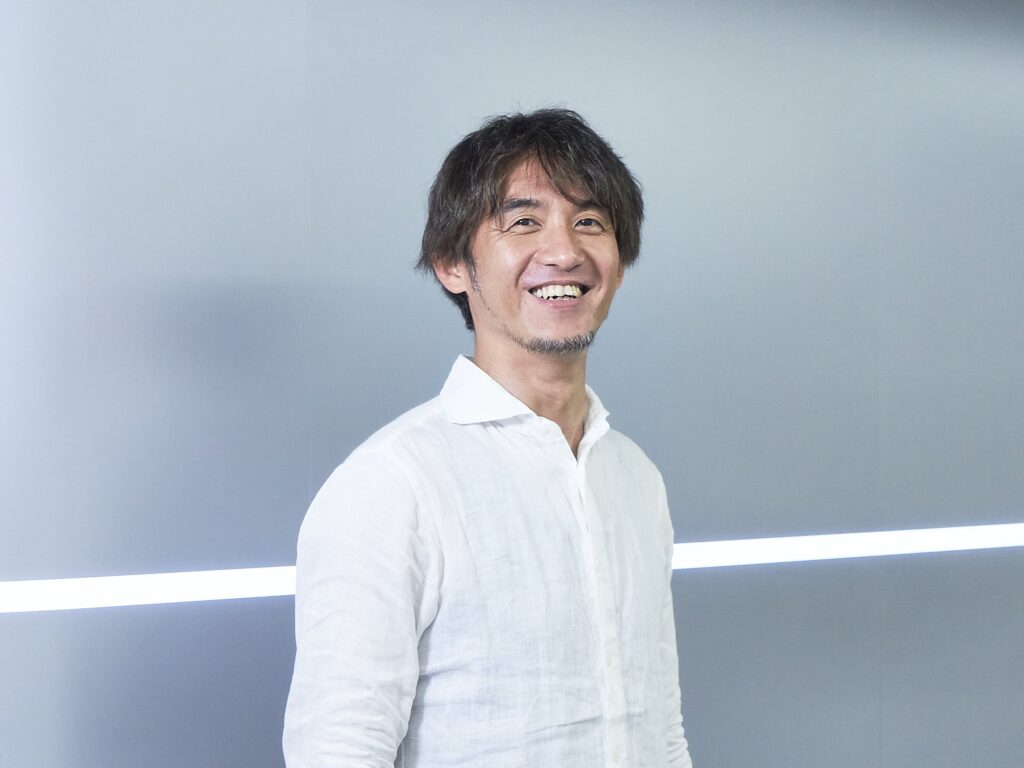 Company name
Liquid, Inc.
Address

2nd floor Otemachi Bldg.,
1-6-1 Otemachi Chiyoda-ku,
Tokyo 100-0004

CEO
Hiroki Hasegawa
Established
12.2018
Number of Employees
45 (as of Nov 2020)
Areas of business
Biometrics, image and big data analysis related to biometrics (LIQUID eKYC, LIQUID Shield, LIQUID Auth, etc.)
Executive team
CEO Hiroki Hasegawa
COO Hideyuki Hoshina
CTO  Yoshiyuki Ohiwa
Awards
Grand Prix, The First IoT Lab Selection, Ministry of Economy, Trade and Industry and Ministry of Internal Affairs and Communications
Jury's Prize, Japan Venture Awards 2018, Organization for Small & Medium Enterprises and Regional Innovation