In addition to increased implementations for Web3-related services, uses are growing, such as the automation of age verification through AI verification.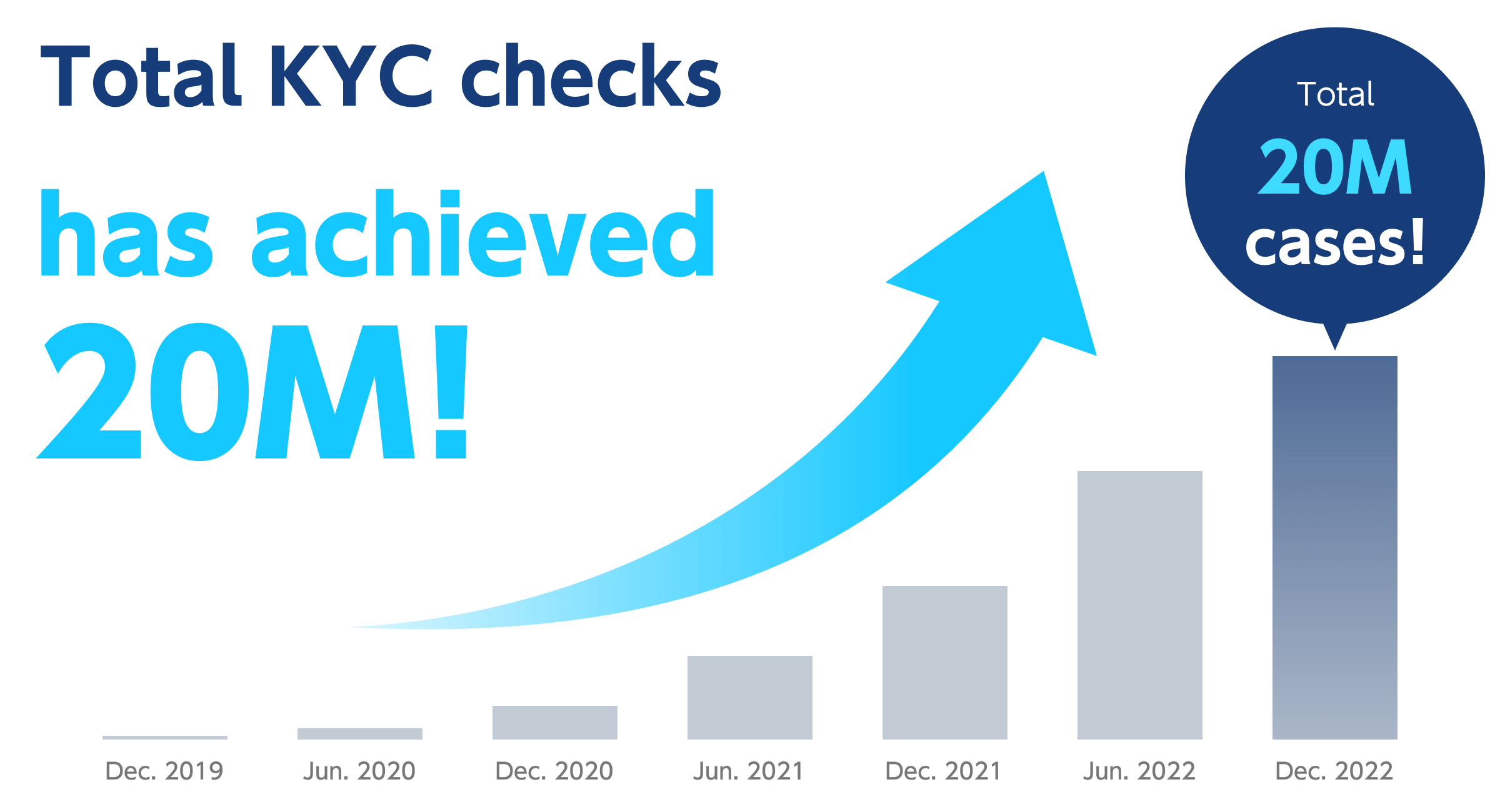 Liquid Inc. announces that the cumulative number of KYC checks using "LIQUID eKYC", a service that completes identity verification online, has now achieved 20 million cases.

LIQUID eKYC is an online service that enables identity verification by, for example, matching ID documents taken by a smartphone with self-taken facial photos. Our own biometric and image processing technologies are used to achieve a low drop-off rate and low percentage of unclear images, as well as high accuracy in automated facial recognition.

The results have been achieved following implementations in diverse industries such as finance, telecommunications, secondhand goods markets, sharing economy and dating apps, as well as in Web3 related services such as crypto-asset trading services and blockchain game guild services.
・Some of the companies implementing our services
Paidy Inc.(PayPal Holdings, Inc.), pring Inc.(Google International LLC), Eureka, Inc.(Match Group), LINE Financial Corporation, Huobi Japan Inc., Rakuten Wallet, Inc., Mitsubishi UFJ Trust and Banking Corporation, JAPAN POST BANK Co., Ltd., NTT DOCOMO, Inc., KDDI Corporation, bitFlyer, Inc., Coincheck, Inc., SBI Sumishin Net Bank, Ltd., SBI Shinsei Bank, Limited, Seven Bank, Ltd., RECRUIT MUFG BUSINESS Co., Ltd., Credit Saison Co., Ltd., JCB Co., Ltd., SAKURA UNITED PLATFORM Pte.Ltd.
Implementation examples of the service, for which patents have been applied for, include an increase in the use of AI verification functions that automate identity verification operations by businesses that are not legally obligated to verify the identity of their customers. The system reduces the workload for businesses by, for example, automating the verification of age and the matching of self-taken facial photos with ID document photos.

Financial institutions are increasingly using LIQUID eKYC, not just for when users open an account, but also for various notifications such as address, phone number, and transfer limit changes, as well as for online identity verification when account owners register to use authentication applications.

"LIQUID eKYC" with the largest share of the eKYC market for three consecutive years*.
The service provides a variety of identity verification methods to confirm that "the user is the actual person" in question, which is necessary for identity verification procedures when contracting online or opening an account. The service now has more than 100 clients, and it enables online identification such as at the time of contracting or changing a user's details, such as a change of address. Using a web browser or smartphone application, the service can be used to take a photo of ID documents such as Driver's licenses and Individual number cards, or to read an IC chip and match it with a self-taken facial photo, or even with the Japanese national identity database JPKI (Japanese Public Key Infrastructure). Original AI, biometric authentication and OCR technology have resulted in a low drop-off rate during the photo shoot process.
Website: https://liquidinc.asia/global/

※ITR "ITR Market View: Identity Access Management / Personal Authentication Type Security Market 2022" eKYC Market: Sales Value Share by Vendor (FY2019-FY2021 Forecast)

About Liquid
Liquid aims to make a seamless world where all 7.7 billion people in the world can easily and safely use all services as they are by automatic and ubiquitous authentication. We provide our own Digital ID, KYC and Authentication service, where users can prove their identity anytime, anywhere in the world with their smartphone or face.

We are expanding our service globally and utilise the know-how accumulated under the Japanese strict law and rule. We adapt our operations and services flexibly and quickly to changes in the required legal and security framework.

*The names of companies and products/services mentioned in this press release are the registered trademarks of the respective companies.